The thermometer (PT100) was connected in the following way: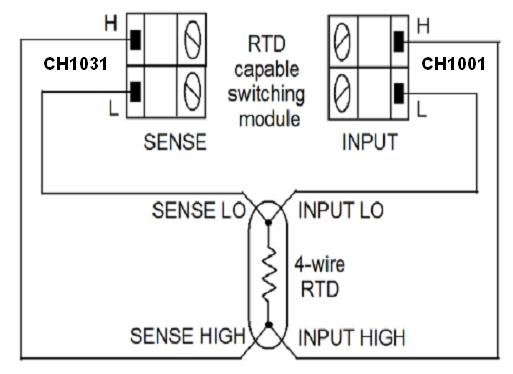 Setting scan for reading thermometer PT100, Single read channel (CH1, 1001)
(Subsequent Triggers Every = 3s, Scan Count = 192):




File type data obtained (Switch multimeter 3706 / Excel / Matlab):
In the columns we have respectively:
Time(s)/Temperature(K)





The measured values are sensitive to the fifth digit after the decimal point.Matlab approximates to the second digit after the decimal point, is a problem to be solved!Graph obtained with Matlab: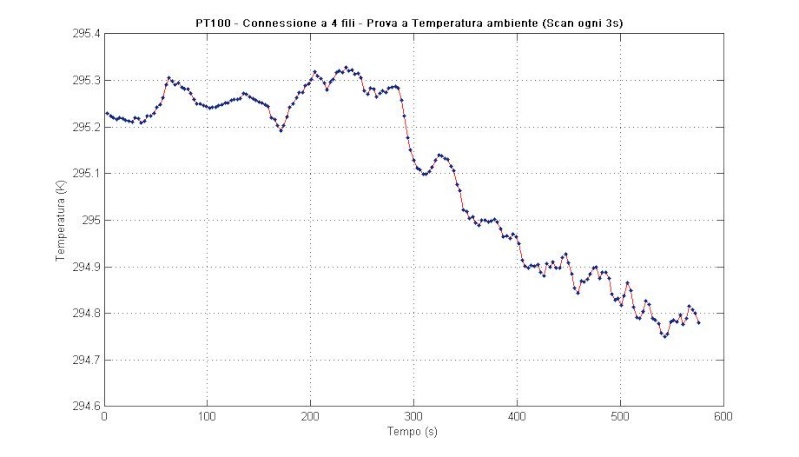 Conclusion:We can see the good sensitivity of the thermometer PT100, also obtained by connecting a 4 wire.
The measures are not very stable in the environment of the laboratory, this causes a variation of about 0.5K, but is due to the environment.

However, the temperature variation is contained in a fairly narrow range between a point and the next, see chart.

The measured data are as follows, are then approximated by matlab
(see above)
:

Temperature (K)
295,22980
295,22300
295,22032
295,21635
295,21972
295,21768
295,21372
295,21350
295,21150

The thermometer has therefore a high sensitivity!



Posts

: 42


Join date

: 2008-12-11


Location

: Roma




---
Permissions in this forum:
You
cannot
reply to topics in this forum