(Viviana, Alessio, Laura, F.Frasconi)
On tuesday afternoon we performed some operations required to allow closing of the WI tower.
1) placed a lens in front of the cross-hair to increase intensity of the arms of the cross.
2) aligned CO2 beam onto the cross-hair.
3) replaced hot mirror with 95%R beam splitter (to allow positioning of the IR camera, not yet done).
On wednesday morning, with Franco, we re-installed mirror B. Finally, we checked the alignment of the CO2 beam on mirrors A and B by looking at the position of the cross-hair laser on the mirrors. We took a picture of the CO2 ring on a screen placed on mirror B with the handy thermal camera. In this way we could check if there is any clipping from mirror A and the centering on mirror B. We found some clipping on the left side on mirror B, thus we reduced a bit the dimensions of the annulus by moving L5.
Here the distances between some optical component on the NI and WI:
NI--> L5-BS = 17.5cm; BS-L4 = 5cm; L4-AXI = 4.8cm
WI--> L5-BS = 17.5cm; BS-L4 = 4cm; L4-AXI = 5cm.
We re-checked the alignment in tower and the image of the CO2 ring on mirror B (see figure 1).
We aligned the cross-hair on the reference cross drawn on the screen mounted on the reaction mass. We left the motors at half of their dynamics.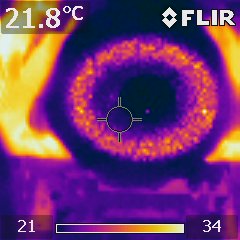 Posts

: 8


Join date

: 2009-11-05






Posts

: 127


Join date

: 2008-11-07


Age

: 46


Location

: Rome




---
Permissions in this forum:
You
cannot
reply to topics in this forum